A sound cartography of the jewish diaspora
To watch SPREAD full video performance & conference at ZKM click here
This was made in collaboration and with the support of ZKM Zentrum für kunst und medien (Karlsruhe), Asylum Arts (New York) and Fundación IWO (Buenos Aires) it was presented as a sound installation and concert at ZKM (Karlsruhe) and Music Is Festival (Munich)
SPREAD Sound Cartography of Jewish Diaspora
The project seeks to explore the cultural heritage and part of the history of the Jewish people, its cultural diversity as a result of multiple expulsions, forced migration processes and infinite pilgrimage through sound. Integrating field recordings, interviews and testimonies, a sound archive is built reflecting the routes of the diaspora.
This online sound archive is hosted on an interactive sound map, where the sounds are located in the specific geographical coordinates where they has been recorded and they can be heard through the app My City My Sounds free download this app developed by the ZKM – Zentrum für kunst und medientechnologie (Karlsruhe) also allows the possibility of making sonorous walks listening to the sonorous landscapes and the historical accounts of these spaces.
This is not only a documentary project, but also an artistic one taking also the form of sound installation and a musical performance.
With the collaboration of IWO FUNDACIÓN – JEW INSTITUTE OF RESEARCH (Buenos Aires), an investigation was carried out in order to delineate semitic peoples route, traveled during their multiple expulsions and persecutions, to replicate these journeys as a performative act, making sound recordings on the way, following the traces of the diaspora.
Understanding sound from its anthropological and evocative side, the goal of the project is to establish a dialogue between the present and the past interacting with the local jewish communities, making interviews, recording sounds in their workspaces, synagogues, schools, cemeteries, neighbourhoods, bars, markets etc. Trying to capture an audible universe that describes an habitat, a culture, spontaneous manifestations of its inhabitants, patterns of behaviour in public spaces, a whole sound identity and represents historical and sociocultural aspects of the jewish people by sound. Thinking the geography as narrative space of the history and the sonorous representation of its landscapes in the present.
From Greece to Mexico, from Lithuania to Argentina, India and USA, the Jews are scattered throughout the world. From the destruction of the second temple at the hands of the Emperor Tito to the expulsion by the Kings of Spain in 1492, from the Russian Pogroms to Nazism the Jewish people had been the victim of multiple persecutions and attacks, forcibly becoming a nomadic community in an eternal migrant process.
Appreciations, experiences:
As a result of these experiences variety of sounds and impressions was collected: from a gefilte fish recipe in Russian to a religious children´s football match in the Venice Ghetto, from the atmosphere of a former bagel shop in Brick lane to a Shabbat ceremony in Jabad Barcelona, an Yiddish lesson in Buenos Aires, a tourist guide explaining how the word Bank originates with the old Jewish moneylender in Spain, a Romanian rabbi describing Jewish life in his city, the sounds of the Arab market that surround the old synagogue in Casablanca, the sounds of a water memorial built on a burned synagogue in Freiburg are some of the sound postcards that make up this work and try to portray Jewish life, its diversity, its history, its wealth.
The essence of SPREAD is to represent this dispersion of the Jewish people through sound, the cultural diversity that the Jewish people obtain as a product of these constant migratory movements that have been perpetuated for thousands of years, adopting different languages, customs, inhabiting different geographic environments and always trying to preserve its essence.
For listen the sound map of the project click here or see the playlist below.
SPREAD – Sound archive worldwide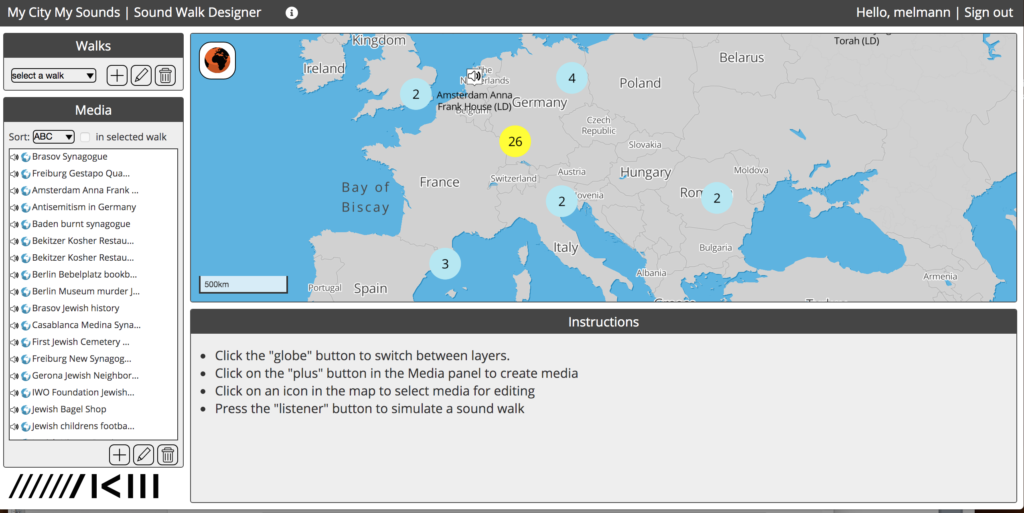 SPREAD
WORLD Sound Cartography of the jewish diaspora
Spread Venice Jewish Guetto Tourist Guide
(credit)
Spread - Venice Guetto Kosher Dolci Shop
(credit)
Spread - Venice Guetto Jewish children's playing football
(credit)
Spread - Buenos Aires Yiddish lesson Fundacion Iwo
(credit)
Spread -Buenos Aires Interview Abraham Lichtenbaum IWO Foundation
(credit)
Spread - St Petersburg Interview Family History Bekitzer Kosher Restaurant RUS & EN
(credit)
Spread - St Petersburg Gefilte Fish recipe
(credit)
Spread - St Petersburg Interview Choral Synagogue Personal History Russian Jewish Context
(credit)
Spread - Moscow Jewish School Synagogue Rabbis studying Torah
(credit)
Spread - London Traditional Jewish Bagel 24 hs Brick lane
(credit)
Spread - London Jewish Cemetery
(credit)
Spread New York Jewish Museum
(credit)
Spread - Berlin - Museum of murder jewish people in Europe - soundscape
(credit)
Spread - Berlin - jewish museum - installation
(credit)
Spread - Berlin - jewish museum - installation 2
(credit)
Spread - Berlin - Babel platz - jewish books burnt
(credit)
Spread - Freiburg Water Monument burnt Synagogue Long
(credit)
Spread -Freiburg Interview Gestapo Quarter
(credit)
Spread - Freiburg New Synagogue Bells
(credit)
Spread - Casablanca around Synagogue Ancient Medina
(credit)
Spread - Rabat around Synagogue Ancient Medina
(credit)
Spread - Brasov Interview Jewish history Old Synagogue RUM & EN
(credit)
Spread Brasov - avenue Jewish houses
(credit)
Spread - Barcelona Montjuic
(credit)
Spread - Barcelona Chabad Shabbat
(credit)
Spread Barcelona Jewish Neighbourhood Call Tourist guide SPA
(credit)
Spread Barcelona Synagogue Jewish Neighbourhood Call Synagogue Tourist guide EN - SPA
(credit)
Spread Gerona Jewish Neighbourhood
(credit)
Spread Amsterdam - Anna Frank house - street - tourist - ambience
(credit)
SPREAD – KARLSRUHE sound archive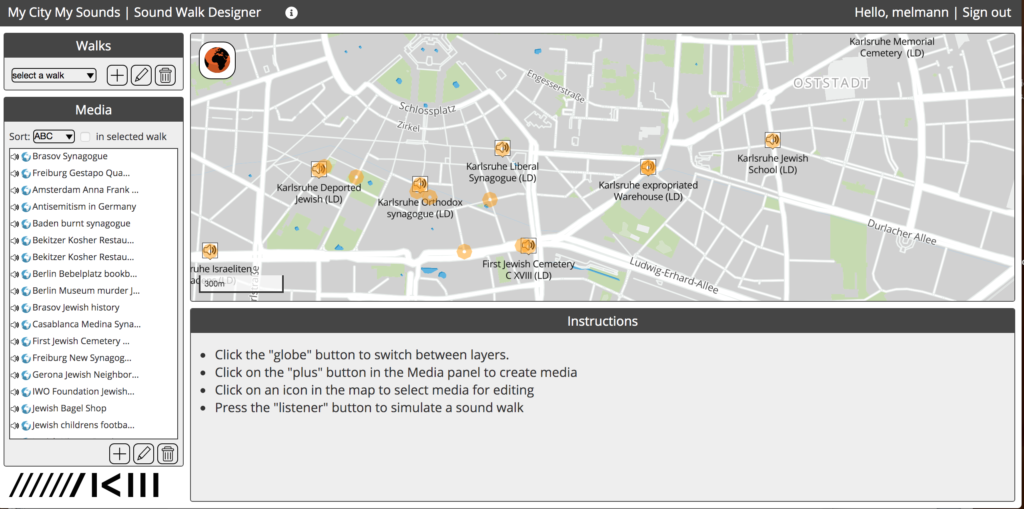 Research site specific conducted in the city of Karlsruhe during the month of February 2019 with testimonies, interviews and field recordings in the context of the residence at the ZKM – Zentrum für Kunst und Medientechnologie – My City My Sounds in collaboration with the historical archive of the city and historian Juergen Schuhladen Kraemer.
SPREAD
KARLSRUHE Sound Cartography of the jewish diaspora
Karlsruhe - historian and soundscape first Jewish Cemetery C XVIII
(credit)
Karlsruhe - historian and soundscape - first synagogue - liberal synagogue
(credit)
Karlsruhe - historian and soundscape 2nd cemetery of Karlsruhe
(credit)
Karlsruhe - historian and soundscape orthodox synagogue, Karl-Friedrich-Str.16, from 1881
(credit)
Karlsruhe - historian and soundscape Old jewish hospital and cemetery
(credit)
Karlsruhe - historian - Memorial Stone Cemetery soundscape - list of Murder people
(credit)
Karlsruhe - historian and soundscape - deported people history Herrenstr. 14
(credit)
Karlsruhe - History and Soundscape new synagogue
(credit)
Karlsruhe - Karstad History and ambience - center - voices
(credit)
Karlsruhe - Karstad History ambience - street
(credit)
Karlsruhe - Matze Fabric - ambience - bakery
(credit)
Karlsruhe - Karlsruhe Holmburger Bank - Vapinao - ambience - restaurante
(credit)
Karlsruhe - historian - History of Antisemitism
(credit)
Karlsruhe - historian & soundscape train station deportation center Baden region
(credit)
Baden Baden - burnt synagogue soundscape - park platz
(credit)
Karlsruhe - ZKM - Historian Building - forced labor factory
(credit)
17 Karlsruhe - Police Station - J - DOCUMENT ENGLISH & GERMAN
(credit)
Karlsruhe - rabbi - interview - Chabad
(credit)
Karlsruhe - historian - Expropiation of shops
(credit)
Karlsruhe - historian - Butcher Kosher House Markgrafenstr. 34
(credit)
Karlsruhe Historian and Text - Rahel Varnhagen Kreuzstrasse 18
(credit)
House liberal Jewish Congregation, flats and offices praying room. Herrenstr. 14
(credit)
Karlsruhe - New Synagogue - religious person praying Knielinger Allee 11
(credit)
Karlsruhe - New Synagogue - ambience - voices Soviet Union
(credit)
Karlsruhe - Historian - House of Oberrat der Israeliten Badens Kriegsstr. 154
(credit)
Karlsruhe - Historian - new jewish congregation - Jewish life after the war in Karlsruhe
(credit)
Karlsruhe Historian - Pig Symbol on churches
(credit)
Karlsruhe Historian- Jewish School – separation EHEMALIGEN LIDELLSCHULE Karlsruhe
(credit)
Karlsruhe - interview - jewish person Soviet Union immigrant
(credit)
Karlsruhe Historian -Anna Ettlinger - Emancipated literary woman. Zähringerstr. 42t
(credit)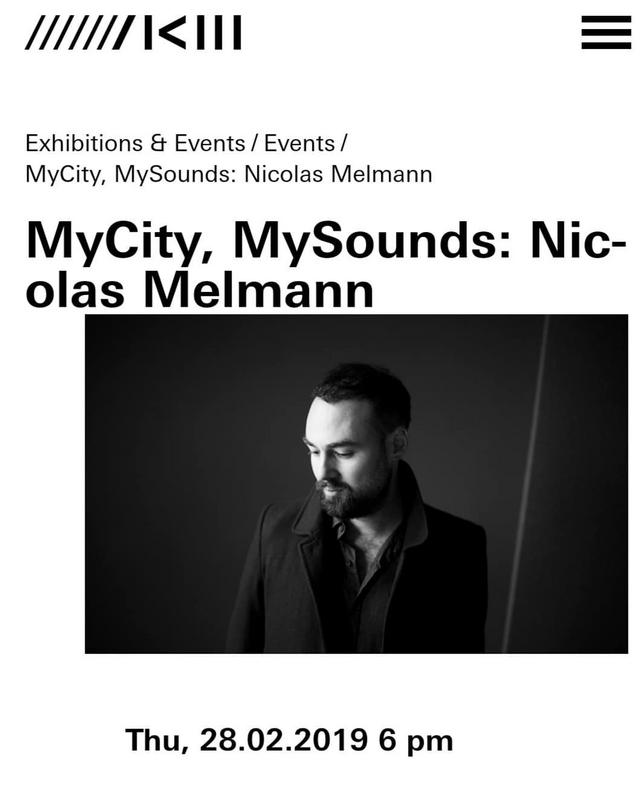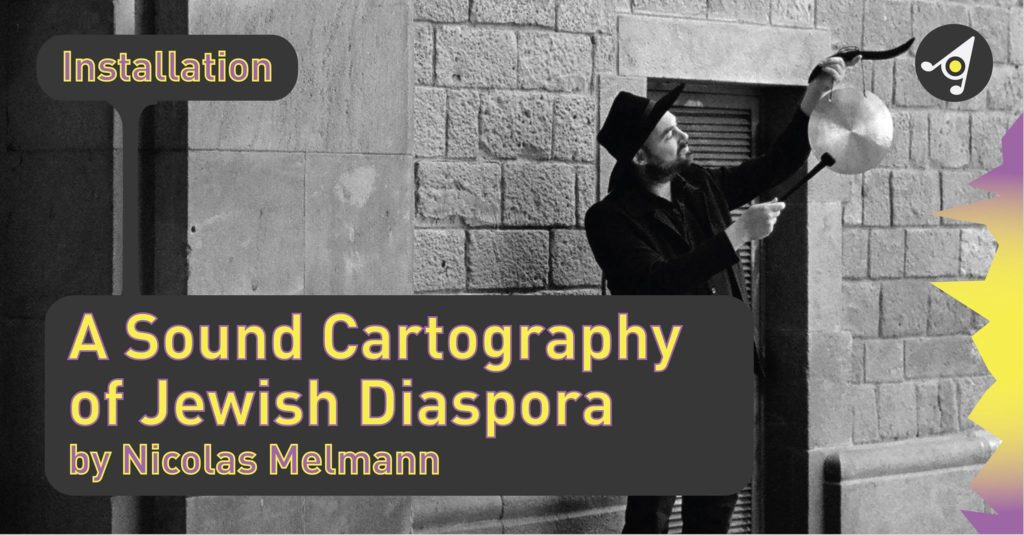 LIVE PRESENTATION AT KUBUS ZKM ZENTRUM FÜR KUNST UND MEDIEN – KARLSRUHE
Images from some of the different explored locations – worldwide